The FACET project ends – public presentation of the results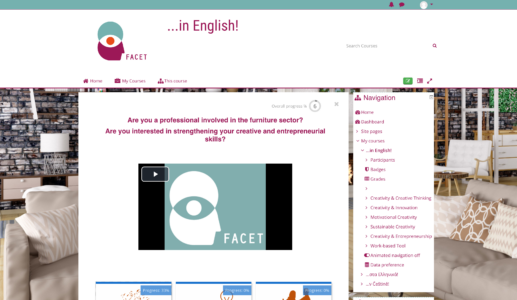 The FACET project faces its final phase. Following 30 months of intense work, FACETis coming to an end. During this period, FACET partnership has developed a complete training course in Creativity and Entrepreneurship in the Furniture Sector. This totally free course is online and consists of 5 modules:
Creativity and creative thinking: an overview on the multiple valences and layers of creativity which allow to enhance and develop creative thinking.
Creativity and innovation: focused on developing methods to be simultaneously creative and innovative.
Motivational Creativity: an overview on motivation, individual motivation levels and its link to confidence, productivity and positive goal setting, through the analysis of different motivational theories.
Sustainable creativity: presentation of basic knowledge of sustainable projects which employ critical and sustainable creative thinking: EWM (Energy, Waste, Material) efficiency, eco-design and circular economy.
Creativity and entrepreneurship: an introduction to basic notions of strategic management, emphasizing the main personal features, which can be useful in a leading position.
FACET training course is available at this link.
Moreover, FACET partners have also developed a work-based tool, a guide for the processes of creation and implementation of ideas applied to real projects. This tool can be found inside the platform.
During the last month of the project, April 2021, partners will focus their efforts on publicly presenting the results and resources produced by the project, in their respective countries, namely in: Italy, Spain, Portugal, Romania, Greece and Czech Republic.
The course and the support tool will be indefinitely available online and totally free. So, we encourage you to use and take advantage of them!