18TH DECEMBER 2020 TRANSNATIONAL MEETING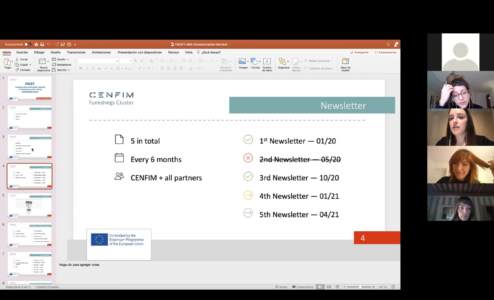 The 6th Transnational Project Meeting of FACET project – Furniture sector Avant-garde Creativity and Entrepreneurship Training – www.facetproject.eu took place yesterday.
The 6 partners, Distretto Interni e Design DID – www.distrettointerniedesign.it, CENFIM Home & Contract Furnishings Cluster – www.cenfim.org, Vocational Training Centre for Wood and Furniture Industries, CFPIMM – https://cfpimm.pt/, Architecture and Design Departement – University of Florence – https://www.dida.unifi.it/, Transilvanian University of Brasov – https://www.unitbv.ro, Association of Czech Furniture Makers – https://www.czechfurniture.com/, CCS Digital Education – https://ccseducation.com/, Eurocrea Merchant http://www.eurocreamerchant.it/, have met online again, due to pandemic constraints, with the aim of sharing project updates and analyse in detail the functionalities of the platform of the "Creativity and entrepreneurship in the furniture sector" course that is actually available online for interested users on the following MOOC Platform https://facet.erasmusplus.website/.
The platform enables the free training for all target users interested in enhancing their competences on creativity and related topics and aims at explaining how it can influence and support the ability in innovation and development of sustainable businesses. The training course is dedicated to all professionals of the furniture, interiors' sectors (architects, designers, professionals in general) but it can be useful also for other sectors with specific attention to students working in the creativity sector and trainers of all sectors horizontally.
This first pilot period will be a true test phase for improving the training course and finally validating it in the definitive version.
During the meeting the features of the document, Guide for Trainers, have been defined. It will be at disposal of trainers that are interested in the future use of the course in their training paths.
The Project will end up in the month of April with a series of Multiplier Events carried out in each partner country in order to enhance project visibility and to promote the online course towards additional potential target groups, even in other sectors.