FACET está ahora trabajando para validar los contenidos de la formación en línea y en la creación de la plataforma MOOC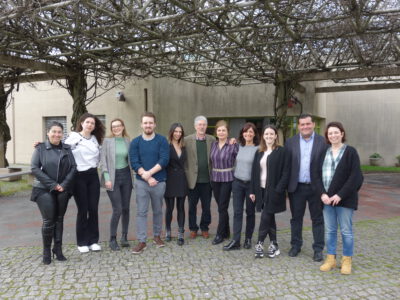 Los trabajos del proyecto FACET continúan en Oporto, del 11 al 12 de febrero de 2020.

El objetivo principal de FACET es desarrollar métodos de formación nuevos e innovadores para fortalecer aún más la creatividad y el espíritu empresarial en el sector del mueble, tanto para la FP inicial como para la continua e incluso el aprendizaje basado en el trabajo.

La nueva formación tendrá como objetivo revertir la tendencia de pérdida de creatividad y mejorar la capacidad de generar nuevas y mejores ideas, y convertir las ideas en acción para crear nuevos productos / servicios / modelos de negocios reales y valiosos.

El proyecto tiene 2 objetivos específicos: la definición del plan de estudios FACET para la creatividad y la habilidad y el conocimiento empresarial y el desarrollo de una herramienta de aprendizaje basada en el trabajo para guiar a los profesionales a través del proceso de creación e implementación de ideas.

The eight project partners, representing 6 countries (Italy, Spain, Portugal, Greece, Czech Republic, Romania) will meet in Porto to revise the last six months project progress and results. During this period, FACET focused its efforts in creating modules and contents of training course, and it is now working on creating and implementing the online platform.